Sheet metal may have scratches, dings, small dents or other minor imperfections that are considered normal circumstances due to the nature of the product.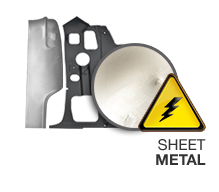 Regarding Minor Imperfections in Panels:
Every panel sold by OER® is inspected and carefully packaged to protect against damage that may occur during transit. However, sheet metal may have scratches, dings, small dents, or other minor imperfections that are considered normal characteristics due to the nature of the product. These minor imperfections are easily corrected during the filling, priming, and sanding phases of your sheet metal installation. OER® does not consider dings, scratches, minor dents, or other imperfections on the sheet metal to be defects in the panel nor are they considered damaged. All sheet metal panels require preparation and manipulation during installation.

Test Fit All Panels Prior to Paint and Installation:
OER® recommends test fitting all sheet metal panels prior to final paint and installation. Minor modifications such as elongating mounting holes, adding additional shims, etc. may be necessary and are considered normal when installing sheet metal. It is important to note that collision damage as well as extreme driving conditions such as racing can twist bodies and frames out of original tolerances, causing body panel alignment problems. Vehicles manufactured with a unitized body (no frame) can be affected by even the most minor accidents, creating sheet metal panel alignment problems. Take into consideration that tolerances on older vehicles are not nearly as precise as modern vehicles. All of these factors will affect the fitment of how your new reproduction sheet metal will install and fit on the car. There is no such thing as a direct fit body panel, when it comes to older vehicles.

For Best Results, Hire a Professional to Install the Panels:
OER® recommends that you hire a professional paint and body person that has the skills, knowledge, and experience necessary to install the new panels on your vehicle. A professional body person will be able to prepare the panels for installation and repair any imperfections.

Returns and Defects:
Prior to returning any defective body panel or sheet metal item to OER®, please contact our customer service department. OER® will not replace a panel, nor will we be responsible for freight on returns should it be deemed that the panel is not defective. See our returns policy for more information.