This means we are currently out of stock on the item but we'll still accept a "Backorder", which holds your place in line for when the product becomes available.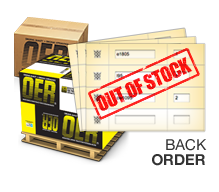 Backorder Policy
The invoice located in the packing slip of your order will notate any items that were out of stock at the time of shipping. The unavailable items will be backordered unless otherwise specified on your order form or verbally to a sales representative when placing your order by phone. Backorders are usually shipped when the products arrive at our warehouse without prior notification. OER® will make an effort to contact the dealer if the backorder is more than 90 days old.
Backorder Pricing (Short Term / Long Term)
OER® will keep track of all backorders on products that are "out-of-stock" or unavailable at the time the order is placed. The pricing on a backordered product is not guaranteed due to labor, manufacturing, materials, shipping costs, and other unforeseeable issues that may arise requiring a price adjustment. OER® will maintain the price on any backorder product for 30 days after the order is placed. After 30 days, the product may be subject to a price adjustment. Long-term backorder pricing is not guaranteed due to the various circumstances mentioned herein. If a price adjustment is necessary on a particular product, we will do our best to inform the distributor before the product is shipped.
Shipped Backorder Cancelations
If you wish to cancel a backorder, please notify our customer service department immediately. The dealer will be responsible for a 25% restocking fee and freight charges if the backorder is canceled or returned after the items are shipped.