OER's Car Cover Warranty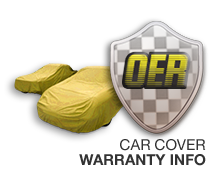 Car covers purchased from OER® are guaranteed by a manufacturer's limited warranty to be free from defect and flaws in materials, construction, and performance that are not attributed to normal use.
The warranty begins from the original purchase date and applies to the original purchaser only. If a defect in material or workmanship occurs within the warranty period, the cover will be repaired or replaced at the sole discretion of the manufacturer. OER® reserves the right to make the final determination on all warranties and defects.
This warranty also does not cover scratches from trapped dust or dirt, fading caused by prolonged sun exposure, stains, or water damage. Please note that these covers are water-resistant, not waterproof.
If not cleaned regularly, covers may become clogged, which can result in cloudy surfaces and other damage. Covering light color objects with dark or bright color car covers may result in color transfer. Some finishes may be damaged from car cover usage. Paint damage is not covered under warranty.
Never cover a recently painted vehicle. This could result in damage to repainted surfaces or lacquer paint. OER® is not liable for this damage. Check with your painter or body shop for recommended cure time.
If you believe your car cover issue is covered under warranty, contact OER® for instructions on how to proceed with your claim.
Tips for Avoiding Damage:
Do not cover a vehicle with the convertible top down, windows or sunroof open, or T-tops removed.
Do not use a cover while towing the vehicle.
Do not cover a wet vehicle.
Do not remove the cover if ice has formed between the cover and the vehicle. Pour warm water over the cover to thaw the ice before removal.
Use the integrated security grommets if substantial wind is expected. Do not rely on the elastic bottom of the cover in even moderate winds.
Remove the cover if high wind conditions (30+mph) are expected.
Note: OER® liability is limited to the original purchase price of the car cover.